LATEST NEWS
December 2019
CLARENDON SPECIALTY FASTENERS ANNOUNCES ACQUISITION OF CR SYSTEM COMPONENTS GMBH
CR System and Components has today (12th December 2019) been acquired by Clarendon Specialty Fasteners Ltd. Click below to read the official announcement.
Acquisition Announcement - English

TUESDAY 23 APRIL
Swindon based distribution company Clarendon Specialty Fasteners announced today (Tuesday 23 April) that it has been awarded with a prestigious Queen's Award for Enterprise. Clarendon is a market leading supplier of fasteners, components and hardware for the Aerospace, Defence, Industrial and Motorsport sectors with three locations in the UK.
Clarendon is one of 201 organisations nationally to be recognised with a prestigious Queen's Award for Enterprise. The company has been recognised for its excellence in International Trade and outstanding short term growth. The Queen's Awards for Enterprise are the most prestigious business awards in the UK carrying the highest accolade for business.

APRIL 2019
AIX | HAMBURG MESSE
Aircraft Interiors is coming! In just 4 weeks time the #AIX19 doors will open.⠀
We're a leading stocking distributor of aerospace fasteners, specialising in the aircraft interiors market. We look forward to welcoming at stand 6A80.⠀

MARCH 2019
JEC World | PARIS-NORDE VILLEPINTE
Join us for our first time exhibiting at JEC World in Paris, the leading international composites show.
We specialise in fastening components for sandwich panel structures & composites for the aircraft interiors market & high end motorsport applications.

FEBRUARY 2019
You've Probably Flown with our Fasteners
Did you know our fasteners were used on the first Concorde? 2019 celebrates the 50th anniversary of Concorde's first flight.
Read our editorial in the Birmingham Business Post February edition... http://ow.ly/JkX230nMANW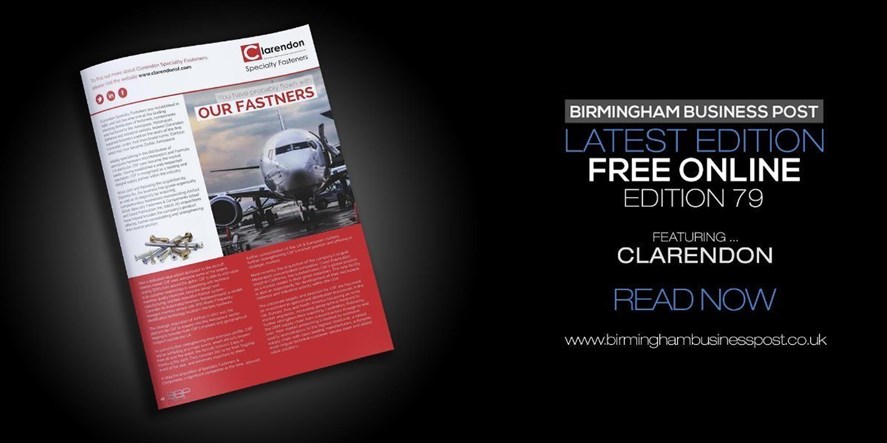 AUGUST 2018
Official Announcement - Clarendon Specialty Fasteners, Inc.

Read Here:
December 2017
Clarendon Specialty Fasteners is the new name for Coast Fabrication
Following the acquisition by Clarendon Specialty Fasteners in October 2017, Coast Fabrication will now trade as Clarendon Specialty Fasteners with effect from 1st January 2018.