LATEST NEWS

NOVEMBER 2018
PRI | INDIANAPOLIS, USA
It's less than 10 days until PRI. Join our team in the US who will be showcasing our extensive range of Aerospace fasteners and take a closer look at our popular Motorsport products; AeroCatch panel fasteners and AeroLoc quarter turn fasteners.

NOVEMBER 2018
AEROMART| TOULOUSE, FRANCE
Join us at Aeromart the international business convention for the Aerospace industry to hear more about our design and technical capabilities.

OCTOBER 2018
ADVANCED ENGINEERING | NEC, BIRMINGHAM
Join us at Advanced Engineering, where we will be demonstrating our range of high quality fasteners, along with our ability to design and manufacture bespoke fastener solutions.
Visit this year's very special 10th anniversary edition of the UK's largest gathering of manufacturing OEMs and supply chain partners. Held at Birmingham NEC on the 31 Oct to 1 Nov.

AUGUST 2018
Official Announcement - Clarendon Specialty Fasteners, Inc.

Read Here:
AUGUST 2018
AIX Expo Boston | BOSTON, USA
Aircraft Interiors Expo Boston is the only global fall event dedicated to the passenger experience and cabin interiors industry.
Clarendon Specialty Fasteners are a leading stocking distributor of fasteners and components to the aircraft interiors market, now with a facility based in Huntington Beach, California. Come and visit our team at booth 203.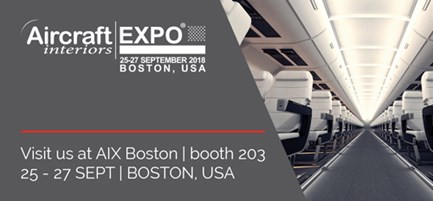 JULY 2018
DVD 2018 | MILBROOK
Returning to Millbrook on 19th & 20th September, DVD2018 is THE EVENT for those involved in equipment and support for the UK's Land Forces. It will showcase the equipment and technology that can support a British Army that is fit to meet future challenges and embrace the need for continuous adaptation.
Clarendon Specialty Fasteners provide engineered solutions to the Defence market. Register HERE and visit us at stand C3-215 to hear more about our design and manufacturing capabilities from our skilled team.

MAY 2018
FAST LIVE | NEC BIRMINGHAM
The FAST Live exhibition is still the UK's only specialist fastening, bonding and assembly event for design engineers, production professionals, manufacturers and fastener buyers - and it is all FREE to attend!
Visit stand 19 to hear more about our engineering solutions and extensive range of specialty fasteners.

April 2018
Aircraft Interiors Expo 2018 | Hamburg
We're booked and ready to fly… AIX 2018 Hamburg is just around the corner.
Visit booth 6A80, Hall 6 to talk to our sales team about aircraft interior fastening solutions and our VMI (Vendor Managed Inventory) service Clarendon Air.
December 2017
Clarendon Specialty Fasteners is the new name for Coast Fabrication
Following the acquisition by Clarendon Specialty Fasteners in October 2017, Coast Fabrication will now trade as Clarendon Specialty Fasteners with effect from 1st January 2018.

JEC WORLD 2019 | 12 to 14 MARCH 2019
Booth: U36
PARIS NORD | VILLEPINTE EXHIBITION CENTRE